The Sanskrit root Yuja, which means "to yoke" or "to combine," is the source of the word yoga. The goal of the practice is to bring the body, mind, and spirit, as well as the individual self and universal consciousness, closer together. This type of union has the effect of neutralizing ego-driven ideas and behaviors, resulting in a spiritual awakening. Here, in this blog, we have brought a list of the top yoga centers in Nepal.
Yoga is a methodical practice that teaches us how to be physically and mentally disciplined in our daily lives. We cannot live a balanced life unless we practice Yoga. Especially now, when science has engulfed the entire globe and environment, causing us to lose sight of our true selves. Yoga has been practiced for thousands of years, and there are numerous interpretations and forms of the practice. Although each yoga school or tradition has its own emphasis and practices, the majority of them concentrate on bringing the body, mind, and breath together to change the energy or shift awareness.
Here are some Spa centers to relax your body
Here are the Top Yoga Centres in Nepal
Atmashree Yoga Retreat
Mandala Studio Yoga and Spa
Charak Yoga
Ashtanga Yoga
Vinyasha Nepal Yoga Studio
Osho Divine Zone
Himalayan Yoga Academy
1. Atmashree Yoga Retreat
Whether you're looking for yoga, meditation retreats, juice cleansing retreats, sound healing retreats, 200-hour yoga teacher training courses, chakra balancing courses, yoga treks, private retreats, beginners courses, or drop-in sessions, Atmashree Yoga Retreat is the best place to go.
Atmashree Yoga Retreat is a safe place where people of all ages and backgrounds can learn about true yoga, yogic living, and how to find balance in their daily lives. So, it's the go-to yoga retreat for an authentic yoga experience, as well as a gentle introduction to modest traditional ashram living.
Here are some reasons to choose Atmashree Yoga
Atmashree Yoga Retreat is based on the principles of ashram living. An Ashram is traditionally a place dedicated to personal transformation through yogic practice and self-inquiry with the support of a community of aspirants.
Atmashree is located on the lap of the giant Annapurna Himalayas, beautifully surrounded by green hills and a few lakes. Which gives the customer a complete immersion in nature.
Every single day starts with a silent walk or meditation in nature, 90 mins of morning and evening hatha yoga, 30 mins of yoga Nidra or yogic sleep, and 30 mins of guided meditation which will bring you into a state of peacefulness, calmness and deep relaxation.
All yoga classes are taught by teachers having teaching and learning experiences for the last 15 years and longer. All teachers are residential at Atmashree and we make sure that you receive the most out of it, individually as well as collectively.
Contact us: Panchase Marga, Bhakunde, Pokhara 33700
Phone: +977 9851234259, +977 9865711749
Gmail: atmashreeyoga@avery-nash
Facebook: https://www.facebook.com/atmashreeyogaretreat/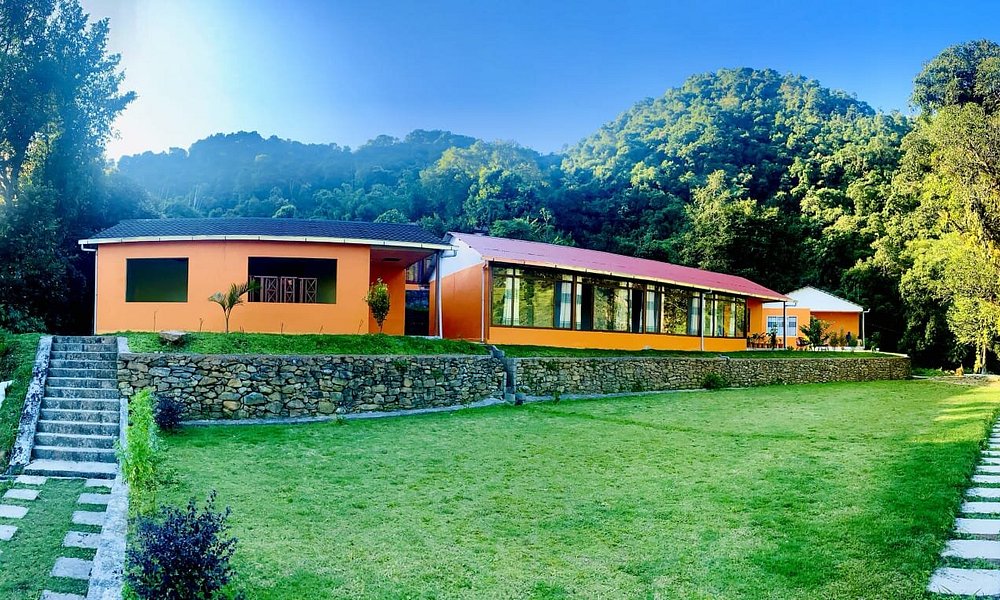 2. Mandala Studio Yoga and Spa
Mandala Studio Yoga & Spa opened its doors in Thamel, Kathmandu, in 2014. Previously, we had been operating our program in Paknajol since 2005. You'll find a range of holistic wellness programs under one roof in our central, yet peaceful location on Mandala Street.
We are dedicated to ensuring that you have the perfect balance of relaxation, joy, and wellness. And we have worldwide certifications for yoga teacher training, spa training, reiki, and sound healing training. As well as short-term and long-term courses.
We're committed to establishing in our students the wisdom and knowledge of thousands of years of tradition. We offer high-quality instruction, class accessibility, therapies, and services. In addition to a clean and relaxing environment, high-quality wellness treatments, and highly qualified therapists and teachers eager to assist you throughout your well-deserved vacation.
You can choose from the following programs we specialize in:
1. Daily yoga classes
2. 3 days / 5 days Yoga retreat in the Himalayas
3. Spa services, Spa packages, Steam, sauna, and Beauty treatments
4. Reiki healing therapy
5. Sound healing therapy
6. 22 days / 30 days Yoga teacher training courses (Certified by World Yoga Alliance)
7. Diploma Spa(massage) Courses (Certified by World Massage Federation)
8. Reiki healing training (Certified by Mandala Studio Yoga and Spa)
9. Sound healing therapy training ( Certified by Mandala Studio Yoga & Spa)
10. Ayurveda Training (Certified by Mandala Studio Yoga & Spa)
| | | | | | | | |
| --- | --- | --- | --- | --- | --- | --- | --- |
| Day | Sunday | Monday | Tuesday | Wednesday | Thursday | Friday | Saturday |
| Morning 7-9 ( A.M) | Asthanga Yoga With Ritesh | Asthanga Yoga With Ritesh | Asthanga Yoga With Ritesh | Asthanga Yoga With Ritesh | Asthanga Yoga With Ritesh | Asthanga Yoga With Ritesh | Stress Management Meditation With Rajendra 8-9 A.M |
| Evening 4-5.30 (P.M) | Yin Yoga & Singing Bowl With Yogesh | Yin Yoga & Singing Bowl With Yogesh | Yin Yoga & Singing Bowl With Yogesh | Yin Yoga & Singing Bowl With Yogesh | Yin Yoga & Singing Bowl With Yogesh | Yin Yoga & Singing Bowl With Yogesh | Stress Management Meditation With Rajendra 5.30-6.30 PM |

Table: Daily Yoga Schedule
Mandala Studio Yoga & Spa
Mandala Street (2nd Floor), Sagarmatha Bazar
Thamel, Kathmandu, Nepal.
Tel.: +977 1701322, 9841857958
Email: info@mandalayogastudio.com.np
Website: www.mandalayogastudio.com.np
3. Charak Yoga
Charak Yoga, a Thamel yoga studio, was founded in 2002 with the goal of making yoga accessible to all travelers and Nepalis. The key motivation in creating Charak yoga studio in Thamel for all was that it was the first yoga studio in Nepal available to all levels for both travelers and Nepalese at the time.
In the process of looking for a good yoga studio in Thamel, Kanchan (a Nepalese yoga teacher) discovered Charak Yoga, where he began teaching his form of yoga. Kanchan was requested to take over the yoga courses management aspect of Charak Yoga Studio in Thamel after teaching yoga there. Kanchan accepted, and now Kanchan is the in-charge of the Charak Yoga Studio.
Contact:
It Opens 7 days a week morning and evening, with a monthly yoga schedule in Kathmandu.
Next to Pilgrims Book & Investment Bank, Above Jatra Cafe
Chaksibari, Thamel, Kathmandu, Nepal
Call: +977 – 9828026736
Email: info@charakyoga.com
4. Ashatang Yoga Nepal
For more than one and a half decades, Ashtanga Yoga Nepal has been one of Nepal's leading yoga teacher training schools, with excellent results. Our institution is located in the Kathmandu Valley. Ashtanga Yoga is a life-changing practice. It is a life-long journey in which we confront deeply ingrained mental and physical patterns and confront our own limitations. Ashtanga is not the easiest practice, but it is a greatly rewarding one if we commit to it: the truth is that we can all change! – and Nepal is a country that takes yogic practitioners very seriously.
5. Vinyasha Nepal Yoga Studio
Vinyasa Nepal aspires to create a platform for a simple inner engineering Vinyasa yoga Sadhana (practice techniques) that leads to different levels of higher consciousness. Its goal is to help people realize that their bodies are moving temples of God and to promote well-being using ancient Yogic wisdom. It's more about discovering a difference within yourself at a yoga retreat. To realize your own divinity within, you don't have to run away from what you're doing and become a monk in the Himalayas.
Vinyasa Nepal believes in translating Vinyasa yoga's traditional wisdom and expertise to keep up with the modern world's pace by promoting strong physical, mental, and spiritual wellness through yoga retreats.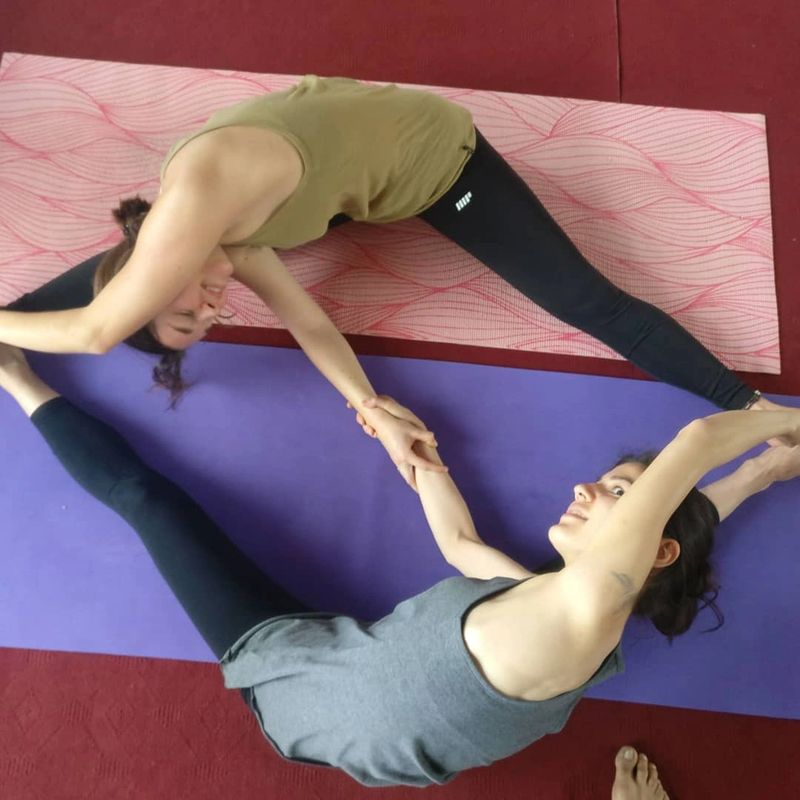 SHIVEDACHARYA YOGA AND AYURVEDA (VINYASANEPAL)
Phone: +977 1 4221907
Mobile: +9779813237572
Email: Vinyasanepal@gmail.com
Website: https://Vinyasanepal.com
VINYASA NEPAL (YOGA RETREAT NEPAL)
P876+VG Kathmandu, Nepal
HOURS
Opening Hours: 9 AM – 5 PM
6. Osho Divine Zone
Nepal is more than just a place in the world. Nepal is a country with a rich natural and cultural heritage. It is teeming with energy fields that no other country can match. As a result, it's an excellent destination for spiritual fulfillment while on vacation. Swami Basu Samarpan established the Osho Divine Temple as a small Sangha (community) of Osho Sannyasins.
So our main goal here is to awaken you to your inner capacity for happiness and creativity. We teach you several meditation methods and techniques based on your comprehension of Buddha's philosophy so that you can experience them yourself.
We also share with you the East's ancient teachings for life's well-being—Reiki, Massage, Yoga, Meditation, Healing, and other relaxation therapies such as Rebirthing, Detachment from the past, Chakra Healing, and so on.
Contact:
Osho Divine Zone
Near Osho Tapoban, 1 Number Bridge
Trishuli Highway, Mudkhu
P.O. box: 7147
Phone: +977-15112048
Mobile: +977-9841564535,
Email: info@oshodivinezone.org, basugauli@gmail.com
7. Himalayan Yoga Academy
The Himalayan Yoga Academy team has extensive spiritual tourism experience in Nepal. Since 2001, we have formally and institutionally introduced yoga to tourism. We have Guru (yoga masters), naturopaths, and Ayurvedic doctors, as well as a management team, to run the academy's various programs making us the leading Yoga Teacher Training Institute in Nepal.
Swami Yoga Subodh is a member of the curriculum development team for the Post Graduate Diploma in Yoga Science, a one-year degree that was recently offered at Tribhuvan University, Nepal's oldest university.
Yogacharya Subodh is a Professor of the Yoga Faculty in Nepal's first university, Tribhuvan University. And He is the driving force behind and initiator of this university's historical project. For the first time in Nepal since March 2019, a one-year Academy PGD in Yoga science has been approved and operated by the University on his own initiative.
Ayurveda and Panchakarma Training Institute in Nepal for 200 and 300 hour Yoga Teacher Training; Reiki Healing Training, Singing Bowl Healing Training, Ayurveda, and Panchakarma Training. They also have other programs like Yoga Hikes, Yoga Treks, Yoga Tours, Yoga Workshops, and many more yoga-related health stuff and programs in Nepal are available in short and extended packages.
ADDRESS
P.O.Box No:
Sunrise Height, Raniban Road, Kathmandu 44600
PHONE NUMBER
+977 9860831725/9851159157
+977 9860831725
EMAIL
himalayanyogainnepal@gmail.com