Hello readers, welcome to the blog. Nepalese food is very close to the culture, beliefs, and feelings of the Nepalese. The food of Nepal resembles the culture and lifestyle of Nepal. If you are willing to taste the Typical or authentic Nepali Foods or want to know about them. If yes, then you are here in the right place. Here in this article, we will talk about Typical Nepali Foods.
Before We Begin
As we know, food is one of the basic needs of life. Food is any substance when consumed provides nutritional components. "We are what we eat". Yes definitely, our Nepali foods are directly connected to our history, values, norms, culture, and tradition.
Nepal is a country of huge cultural and ethnic diversity. In Nepal, we can find citizens with many different castes, religions, and cultures. Thus, all groups in Nepal, have food that shows their culture. So, now without delay, let us move on to the list of some popular typical Nepali foods that you must try or know.
List of Typical Nepali Foods
Dal Bhat
Dhindo or Dhido
Gundruk
Momo
Sel Roti
Newari Dishes
Thukpa
Tongba
Kwati ko Jhol
Gorkhali Lamb
Sekuwa
Sukuti
Dal Bhat
First, let us talk about Dal Bhat. The list of typical Nepali foods is not complete without Dal Bhat. It is one of the heaviest food, as it is rich in carbohydrates and protein. Moreover, it provides you with the energy for a long time than any other meal.
In Nepal, we cook Dal Bhat in most of the kitchens. Thus, we can also call it a national dish as well. Nepalese serves Rice (Bhat) with lentils (dal) and side dishes. These side dishes can be meat, vegetables, curd, and pickles (Achar, Chutney).
Dhindo or Dhido
Here we have another one of the popular typical Nepali foods on our list, which is Dhido. While it is one of the best traditional foods of Nepal. To prepare a Dhido, we need to cook millet flour, wheat flour, buckwheat flour, or maize flour with hot water in a traditional way.
In Nepal, Dhido is popular as one of the healthy food full of carbohydrates and other nutrients. While cooking, we need to stir the batter with a spatula continuously. Dhido is simply a thick porridge or mush. We can enjoy the Dhido by dipping in meat soup, milk, Gundruk, or lentil soup.
Gundruk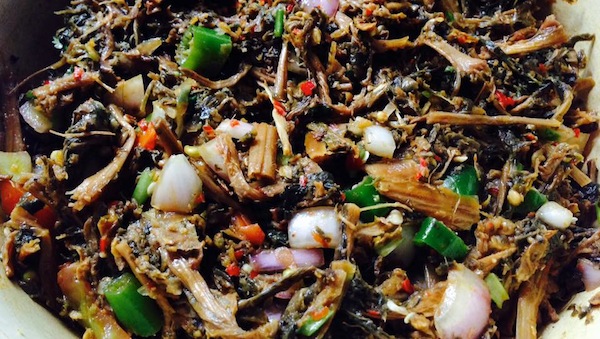 Gundruk is very famous in Nepal. It is a fermented leafy green vegetable. People use Mustard leaves, Radish leaves, and Cauliflower leaves for making Gundruk. Gundruk has a unique smell and taste.
Generally, it has a citrus taste. It goes very well with the Dhido. While people in Nepal consume Gundruk as a Soup or Pickle (Achar). Its citrus taste and beautiful aroma take food to the next level.
Momo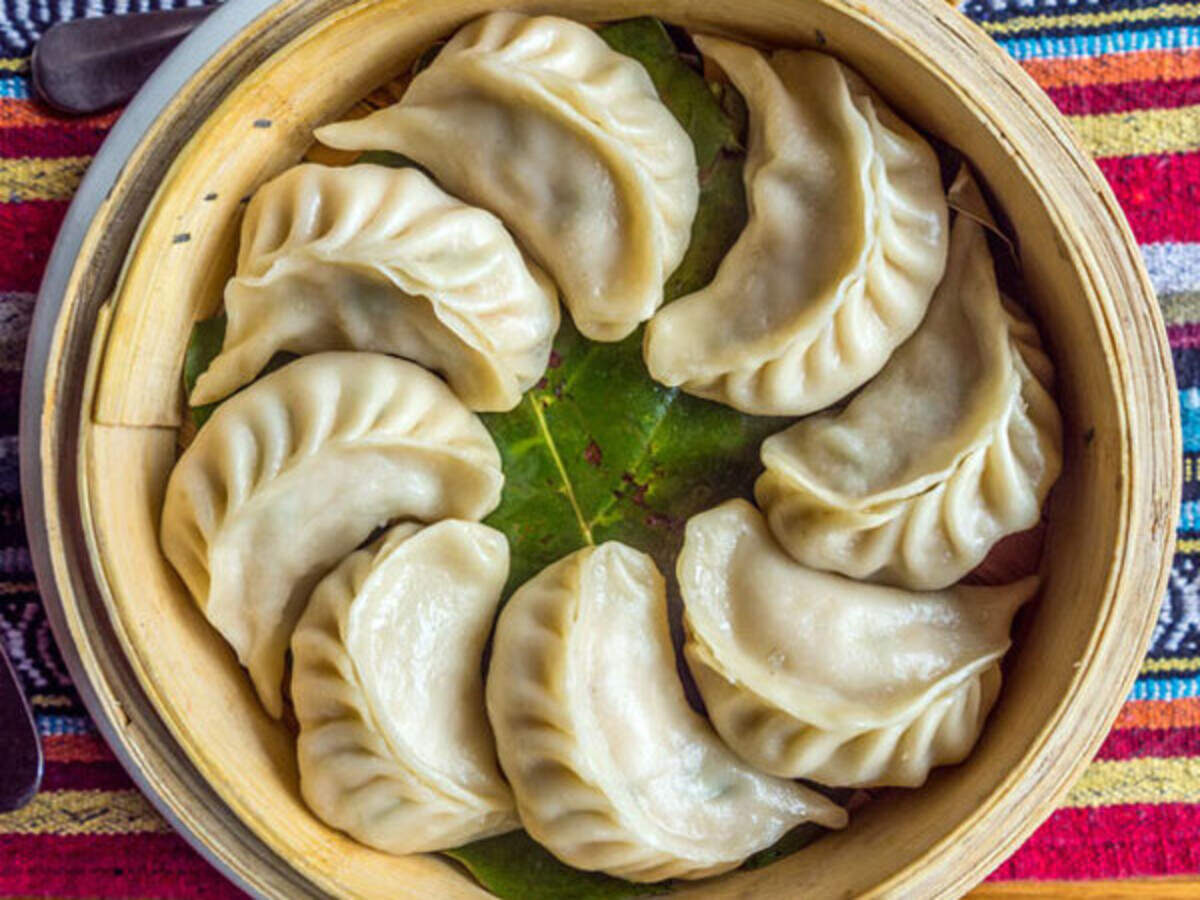 How can we forget Momo, when we are talking about typical Nepali Food? Yes, Momo is one of the popular dishes in Nepal. It is undoubtedly one of the favorites and most loved foods/Snacks of Nepalese.
Momo comes in a lot of varieties of flavors, colors, and sizes. It is a dumpling that comes with various fillings such as minced buff, chicken, paneer, khuwa, vegetables, etc.
Sel Roti
Now let us talk about Sel Roti. No occasion in Nepal is complete without Sel Roti. It is one of the authentic food of Nepal. Any festivals and ceremonies require this dish. Sel roti is a fusion of doughnuts and bagels. Moreover, It is a circular rice flour bread.
Sel roti is crunchy outside and soft inside as we deep-fry it. Taste-wise, it is Sweet. Moreover, it goes well with Achar (Pickle), yogurt, vegetables, and meat as well. People have it for breakfast, snacks, and lunch sometimes.
Newari Dishes
Here we have another top typical food of Nepal, Newari food items. Newari food items contain some popular dishes like Newari Khaja/Newari Bhoye/Samai Baji, Yomari, Chatamari, Juju Dhau, etc. These are ethnic food of the Newar community. However, traditionally they were limited only to the Newar community. Newari people often eat them on occasions or festivals. But, now it is famous all over Nepal.
Firstly, let us talk about Samai Baji. It is a combined dish that comprises several items such as baji (beaten rice), achar, chhoyela (meat), egg, soybeans, bara, Aalu Tama, chhyang (rice beer). Another is Yomari, which is a traditional dish, that consists of rice flour and chaaku.
In Yomari, Chaku is filled inside the rice dough with a unique shape. Another, the popular Newari item is Chatamari. It usually appears like Pizza. Because a thick batter is made out of rice flour and various ingredients are used to garnish on the top of it.
Chatamari's toppings like vegetables and meat give it a beautiful look and taste. And the next is Juju dhau (King of Yogurt), a dish made up of yogurt. It's made by mashing some sugar into hot milk. The mixture is poured into a beautiful clay bowl, which is then kept warm until ready to serve.
Thukpa
The next best Nepali food you must try is Nepali Thukpa. Thukpa is a thick noodle soup that can include meat, egg, or just vegetables. It is best to enjoy in the cold and winter season. This hot simmering soup can provide warmth to your body.
Tibetan and Chinese cuisines are the inspiration for this dish. Along with a great taste, Thukpa provides the locals with the perfect nutrients as well.
Tongba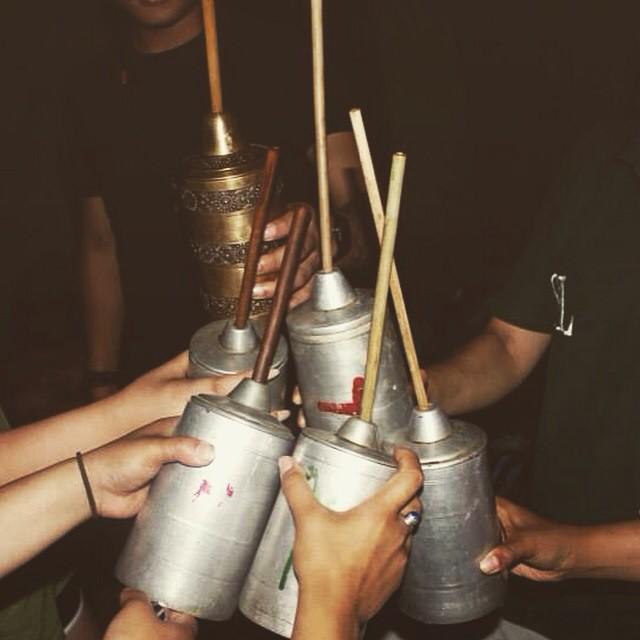 Here we have another authentic Nepali alcoholic beverage, Tongba. It is the traditional alcoholic drink of the Limbu community of Nepal. To prepare it, we need to brew it from fermented whole grain millet. Generally, Tongba refers to the container in which the beverage is kept.
Tongba is a sign of respect, and it is consumed during important occasions and festivals by the Limbu people. This drink is served uniquely: it is put into a Tongba and then filled with hot water.
Then, they allow the liquid to sit for five minutes before drinking it. While drinking it, they drink it using a bamboo straw, that also serves as a filter for the solid particle in it. People keep adding hot water until they don't get the taste and feel of alcohol, much like green tea.
Kwati Ko Jhol
Kwati is a traditional Nepalese dish made of white peas, chickpeas, soya beans, mung beans, kidney beans, and black-eyed peas, among other beans. Along with that, we can also add Turmeric, ginger, salt, and ajwain lovage seeds as well. It's extremely popular on Janai Purnima. And it is best when we serve it with flatbread on the side.
Gorkhali Lamb
In Nepal, Gorkhali lamb is a popular dish of Lamb meat. Nepalese use Lamb meat to celebrate festivals and special events. People often make it using lamb chops that have been grilled over charcoal and then simmered in a chili sauce.
It tastes best with rice or roti. When the country is facing frigid temperatures, it tastes the greatest. People in Nepal consume it high during the Dashain holiday or on a special occasion.
Sekuwa (Roasted Meat)
Meat roasted over a wood fire in the traditional Nepali method is famous as sekuwa in Nepal. While making Sekuwa, one needs to marinate raw meat with herbs and spices, skewing the meat, then slowly cook it over a wood fire. We can use Pork, chicken, goat, or a combination for making sekuwa. Dharan and Tarahara are famous for Sekuwa in Nepal.
Nepali Vegetable Name in Japanese
Sukuti (Dried Meat)
Sukuti is a dried meat product native to Nepal, Tibet, and India's mountainous areas. We can prepare it with the meat of buffalo, lamb or goat. Moreover, it's popular among Limbu and Gurung people. The dried meat is sliced thinly and marinated in a paste of turmeric, black pepper, coriander, chili, ginger, garlic, and onion.
These are typical Nepali foods.
Thank you for reading, if you find this article helpful, please like and share this article.