The movement of goods and people from one location to another is referred to as transportation. As civilization has advanced, particularly in terms of technology, the ability and necessity to transport enormous amounts of product or large groups of people across vast distances at high speeds in comfort and safety has grown. This article will look at traditional transportation technologies in Nepal.
Transportation is the most commonly acknowledged infrastructure for a nation's growth among numerous infrastructures. Different types of advanced transportation have boosted our progress. People's everyday lives are profoundly ingrained with the demand for transportation.
In this article, we are going to talk about the traditional transportation technologies of Nepal. As we know, Nepal is a landlocked country border with big countries like India and China. Nepal's transportation system is made up of various modes of transportation.
Nepal's transportation system is an interesting phenomenon because the country is mostly mountainous and has a rough and rugged terrain.
Here is the list of Traditional Transportation Technologies of Nepal.
Nepal offers extreme geographical conditions to test different transport systems. It has high mountain ranges that cover much of the country, as well as terrain (flat land). Rural access is a major problem in Nepal.
Settlements are scattered with few densely populated areas, which combined with the harsh terrain and unfavorable weather conditions, makes linking homes to established roads very difficult.
In the history of transportation technologies of Nepal, there were different means of transportation that were used to transport goods and people. Therefore, we use most of this traditional transportation technology of Nepal. So, now without delay, let us move on to the list.
1. Human-Powered (Walking)
Human-powered transportation, also known as walking, running, and swimming, is a type of sustainable transportation that involves moving people and/or goods using human muscle power. Walking was, without a doubt, the first means of transportation. People use to cover long distances on foot.
Human-powered transportation is still popular for a variety of reasons, including cost savings, leisure, physical activity, and environmental concerns; in some cases, it is the only option, mostly in rural areas.
2. Gravity Ropeway: An alternative transportation
The gravity ropeway operates only on gravity, without the use of electricity or other forms of external power. Gravitational ropeways are easy to use and maintain, as well as are environmentally friendly. The use of a gravity goods ropeway can help boost rural productivity.
It works in two ways: gravity sends produce down from the top, while the force of goods coming down lifts a smaller load (one-third) from below to the top. It is only suitable for the transportation of goods and not for the transportation of people.
3. Tuin Technology To Cross River
People must either swim, use a grass rope with a wooden pulley, or use simple boats to cross rivers due to a lack of proper or alternative transportation. Tuins (Wire bridges) are an indigenous Nepalese technology and one of the most common river crossing structures. It consists of a single wire rope, a pulley, and a straightforward wooden trolley.
It is dangerous and sometimes life-threatening to cross rivers using such Tunis. On June 27, 2011, a Timber Post of Tuin built across the Trisuli river in Gorkha district broke away, killing five people in the river. This type of information is commonly found in the media.
4. Improved Tuin
In Nepal, Practical Action improved the traditional Tuin system to make it easier and safer. While operating such traditional Tuins, several people have lost fingers, and there is always the risk of falling off the trolley while crossing. Practical Action also created a new pulley system that makes it easier to pull the trolley and eliminates the risk of fingers becoming trapped in the mechanism.
Improved Tuin provides improved balance and can carry heavy loads at the same time. Tuins are still used in many rural parts of Nepal.
5. Bullock Cart (Bail Gadi) and Horse Carriages
Bullock carts also known as Bail Gadis are used in villages of terai regions to transport grass or goods. Farmers have used bullock carts to transport their products to market or to ferry people. Bail Gadi was the only means of transport in rural areas who wished to travel from one village to another village. For centuries, bulls and buffaloes have been used to pull carts. In the Terai region of Nepal, bullock carts pulled by buffaloes and bullocks are still the primary mode of transportation for goods.
In the past, the horse was another popular mode of transportation for transporting people and goods. The horse-drawn carriage was one of the chief modes of transport of the aristocracy. It is a mode of transportation that has been used in many parts of the world since ancient times.
6. Donkeys use for carrying goods
Back then, donkeys were the primary mode of transportation for transporting goods from one location to another. People couldn't carry all the goods they needed back then, so donkeys were used to transport the goods. In some remote parts of Nepal, where there are no roads or other means of transportation, donkeys are still used.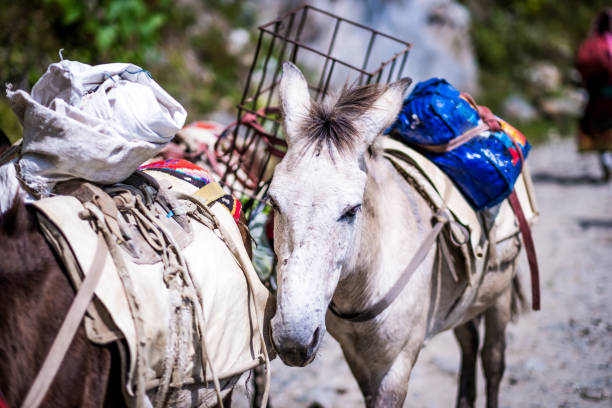 7. Cycle Rickshaw
A cycle rickshaw is a small-scale model of local transportation. Cycle rickshaws are non-polluting and offer a cost-effective way to connect the last mile. For short distances, the cycle rickshaw was one of the most popular modes of transportation in Nepal.
Rickshaws were mostly used in the Terai region of Nepal and some parts of the Hilly region. It is human-powered by pedaling or either pulled by a person on feet.
8. Doli to carry bride
It's a piece of furniture, a customized chair, this is used to transport people. It comes in a wide range of forms, colors, and sizes. Brides are transported to religious activities or weddings in this vehicle. The bridegroom was usually ridden by Doli throughout the wedding ceremony and ceremonies.
The day after her wedding, the bride was sent it to her in-laws' residence. Doli was carried on the shoulders of four people who walked on foot holding the bride and conveying her to the location. Marriages were often held within a 10-kilometer radius at the time, and roads and modes of transportation were few.
9. Wooden Bridge
A timber bridge, also known as a wooden bridge, is a structure made of wood or timber. From ancient times we use timber bridges which are also known as one of the first bridges.
Wood and stone were the only materials available for building bridges in the past. Wood was an obvious choice in forested areas. An early solution was to simply push trees over in order to cross rivers or ravines.
Wood took on great importance as a versatile construction material that was available almost everywhere.
At Last,
There you have it, a list of Nepal's traditional transportation technology of Nepal. With the advancement of technology, few of the above traditional transport have decreased in number but are still used if some rural areas. The advancement has not only affected transport but also tools made and used by our ancestors that are still being used in some places. We hope that learning about and reading about these tools has provided you with useful information.